The top 12 tips for selling your downtown Vancouver Condo are of interest to local and foreign buyers alike. This is largely due to offering a lifestyle that is literally one of the best in the world. From convenient outdoor activities, world-renowned eateries and top brand name shopping destinations. Vancouver has been named the #1 place to live in the world many times for good reason. Downtown Vancouver Real Estate Listings are what homebuyers and investors are seeking out. But selling your condo for the highest profit possible is an art form unto itself. Which is why I want to share these Top 12 Tips for Selling Your Downtown Vancouver Condo. It covers off all the areas that will facilitate a smooth transaction start to finish!
Top 12 Tips for Selling Your Downtown Vancouver Condo
1. Mentally Prepare to Sell Your Vancouver Condo
My first Top 12 Tips for Selling Your Downtown Vancouver Condo, is about the excitement surrounding selling your condo. It often means you are moving on to a new chapter in life. Plus the payout your Downtown Vancouver Condo for Sale will bring is always nice.
If you were a first time homebuyer when you purchased your Apartment in Vancouver, there may be an emotional tie to your home. Which is why it is important to mentally prepare to put your Vancouver Condo up for Sale, and start to de-personalize your space for potential buyers to easily envision it as their home.
I grew up in Vancouver, man. That's where half of my style comes from. – Seth Rogen
2. Make Your Downtown Vancouver Real Estate Listing Neutral
People aren't just looking to buy A condo; they are looking to buy THE condo. Which means you need to make your Downtown Vancouver Real Estate Listing neutral in order to attract lots of buyers. This requires your home to appear as a clean slate. Ready for anyone from any walk of life to visualize it as his or her own space, while still keeping it attractive enough to set it apart.
3. Set Yourself Apart from Other Vancouver Condos for Sale
Condos for Sale in Downtown Vancouver can tend to begin to look like a canned version of the one before it to buyers. Which makes it important to ensure you are setting you condo apart from the masses. You can design a custom man cave, create a stunning feature wall, or enhance your condo with cutting edge technology. Having something that sets your space apart, means that you can ask more for your Vancouver Condo for Sale, and quickly attract the right buyer.
4. Make Your Condo a Little Piece of Heaven
As the saying goes: "cleanliness is next to godliness", and making your condo a little piece of pristine heaven will go a long way to viewers. This requires a professional cleaner to really get into the corners and crevices of your Condo for Sale in Vancouver. Or you are highly skilled in elbow grease and able to clean your condo until it shines – a clean show home counts for a lot.
5. 'Landscape' Your Vancouver Condo
Coal Harbour Condos for Sale in Vancouver and Yaletown Condos in Vancouver for Sale, are both a popular choice when it comes to Downtown Vancouver Real Estate. Most condos within these locations come with an outdoor space – often in the form of a patio. This patio can be a goldmine as it pertains to an outdoor space, and when made into an additional living space, it offers a great deal of appeal. Whether creating a live wall, designing a herb garden, or installing a custom sitting area, will increase your selling price. It will set you beautifully apart.
6. Recognize that Organized Sells
City living tends to mean small living, which is entirely fitting for the lifestyle it comes with if the space is organized well. It's an easy upgrade you can do yourself, maximizing drawer space with proper space savers, along with organizers for your cupboards and closets, turning your small space into an ultra efficient home.
7. Heavy Up on Hardware to Increase Your Vancouver Real Estate Investment
Hardware is a soft sell that reels in buyers all the time. Which means upgrading your kitchen cupboard handles, your bathroom hooks and wracks, and your light fixtures, are going to be an investment that pays off in your Downtown Vancouver Real Estate Listing.
8. Build New Cabinets and They Will Come
Cabinets are also big selling features in Vancouver Condos for Sale. Regardless of if you have a listing in Coal Harbour, or a Yaletown original condo, these prestigious areas still require updates to suit the times, and new cabinets are exactly what your Yaletown Condo Specialist will order.
Similar Blogs for Your Consideration
9. Wood Floors – Always Install Wood Floors
Carpets are like phone calls; no one really wants them anymore. So if your condo still harbours carpets – get rid! Wood flooring is an affordable upgrade that will upgrade the selling price of your condo along with it.
10. Move-In Ready Vancouver Condo Living
People don't look to buy a broken down car. Nor do they want their newly purchased condo to come with broken light switches, faucets or a malfunctioning washing machine. Having your home move-in ready will have those looking for Vancouver Condos for Sale ready to put in an offer.
11. Set the Seasonal Scene
Keeping your Apartment for Sale in Downtown Vancouver set with the appropriate seasonal scene, will help to either create feelings of nostalgia, or ensure people aren't turned off by month old decorations still hanging in your home.
12. Make an Entrance with Your Vancouver Condo
Last, on my Top 12 Tips for Selling Your Downtown Vancouver Condo – make an entrance! Condos for Sale in Vancouver offer convenience, excitement and an element of prestige. So staging your condo from the moment potential buyers arrive at your door, is important in making an entrance. Ways in which you can do this include:
Put out the welcome mat – literally
Wash your windows to make your condo as bright and clean as possible
Set your dining room table
Put out fresh flowers
Offer local coffee and artesian treats
Ensure your patio is pristine
Replace any dying plants
Make your master bedroom gender neutral
[su_note note_color="#a2afd7″]Sales of apartment properties fell to 1,032 for December 2017. (source: REBGV.org)[/su_note]
Hire the Right Realtor for Vancouver Condos Downtown
This is my "bonus" tip, and should without saying, but one should always hire the right realtor for the job. Someone who lives and breathes real estate in Vancouver, and can truly show potential buyers the highlights of the area – ensuring you sell your Vancouver Real Estate Listing for the most profit in the shortest timeframe possible.
I hope you have found these Top 12 Tips for Selling Your Downtown Vancouver Condo helpful, and will use them to maximize the sale of your condo.
I am a Vancouver Condo Specialist who lives, plays, eats and dines in Vancouver, and proactively help you find the right buyer for Real Estate in Vancouver, bringing you the best offers quickly, and making the journey a great experience; from listing to selling and everything in-between!
Take a Look at the Newest Listings for All of Downtown Vancouver Condos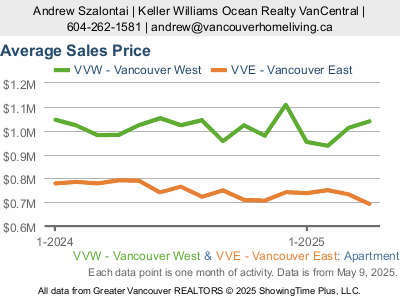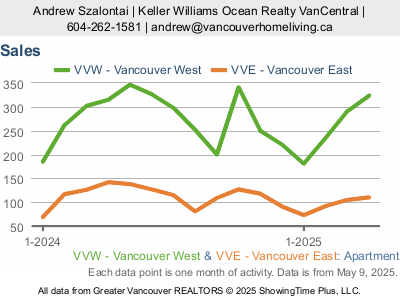 Get in Touch with Andrew Now... Quick and Easy!