Vancouver, BC is a globally acclaimed, stunning, and vibrant center of cultural variety. If you're considering moving from Eastern Canada to the breathtaking West or just need a new living space in Yaletown, downtown, or any other area, this remarkable city offers an abundance of opportunities to discover the perfect Vancouver Home Living experience!
Yaletown
The creme de la creme of the Vancouver condos downtown core – let me help you find a modern condo that you will love to live in!
Coal Harbour
If you want to be right in the mix but with a more quite Vancouver condos scene, this is the place to get a luxury condo away from the noise of the shopping and entertainment districts.
Gastown
Offering Vancouver condos, lofts and live work spaces surrounded with eclectic restaurants and shops, Gastown has a style and energy of its own.
Reviews of What My Clients Had to Say…
Buying and selling houses, as we all know is stressful. Buying a house in the lower mainland of BC is downright ridiculous. That is where you need the help of a professional.
When we first started thinking about selling we contacted Andrew, at the time our house was not yet complete but Andrew was patient, even showing us listings for potential buys. We immediately received notifications for properties based on the areas and criteria we were after. This was similar to searching for a needle in a haystack.
When it came time to list our house, and notwithstanding the large amount of work he had already done for us, Andrew's no pressure attitude prompted us to sign with him. His strategy was tailored to the market at hand; and two open houses one week after listing yielded four offers with the accepted one at 30k over asking. That was due in part to the exceptional quality of the home and the excellent media company he retained for marketing.
Finding a new home on the other hand was not so simple, as we dragged Andrew all over the lower mainland he arranged viewings nearly at our beck and call. The property we were after was specific and Andrew's tireless background searches led us to a few properties. Some we liked, some we ran from, and some we walked away dumbfounded. Perhaps the stars have finally aligned for our current offer.
In short, whether Andrew was organizing viewings, drawing up contract revisions or helping us move, he was there when we needed.
我们很高兴找到Andrew这位诚信的地产中介。他工作认真努力,针对我们的要求,及时地给我们提供有用的售房信息。他在周末总是抽出大量的个人时间耐心地陪我们看房。看房时会针对每栋房子的情况从专业角度提出各种有益 的建议,有时甚至会发现卖房经纪都不曾知道的问题。
他总是会站在我们的角度给我们下Offer。他会给我们建议每栋房子的合理价位,这些价位是建立在与类似房屋相对比的基础上。他从不会说服我们为买到房子去出我们认为较高的价位。他具有较高的职业道德,即使别的卖房经纪让他说服我们出高价而促成交易,但他从不为所动。
We were pleased to be working with Andrew who is an honest realtor. He worked very hard and provided useful information in time based on our requirements. He took lots of time to view properties with us on weekend. He professionally came up with suggestions during viewing the properties. Sometimes he could even find the problems that the sell's realtor didn't know.
He was always writing offers from our point of view. He would suggest a reasonable price of each property we would like to write offer. This price was based on the comparison with the other similar properties. He never persuaded us to buy a property with the price that we thought was unreasonable. He has a high work ethic. Even if the sell's realtor let him persuade us to buy a property with a high price, he never did that.
Vancouver Housing Statistics That are Important to You
The Condo Market HPI* - Live Feed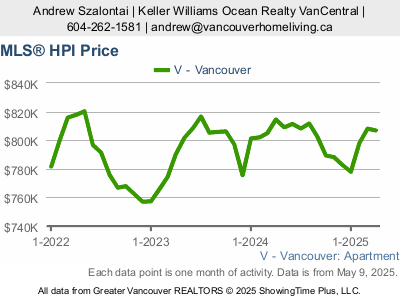 The Detached Home Market HPI - Live Feed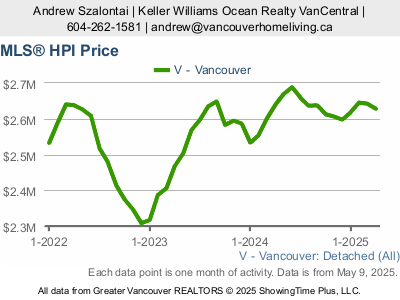 The Townhouse Market HPI - Live Feed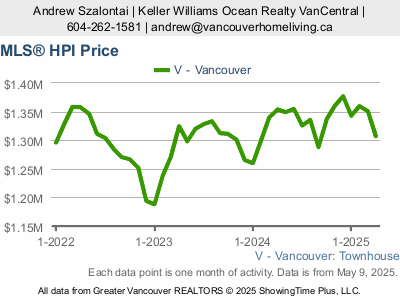 Average Days on Market - All Properties
Getting Aquainted with Andrew Szalontai
Being a local Real Estate Agent in Vancouver who deeply cares about this city, my clients have grown to rely on my expertise regarding the Metro Vancouver market to meet their housing and investment requirements.
Given the plethora of choices available, it is crucial to know the specific features and amenities offered by each location, enabling my clients to save time and focus on viewing homes that align with their wish lists and financial capabilities.
From Yaletown to Coal Harbour, the North Shores to the Fraser Valley, I possess the knowledge to promptly evaluate the suitability of various homes for your lifestyle and effortlessly guide you through the areas I consider my own.
As an active Vancouverite, I thoroughly enjoy exploring the diverse cultural aspects this city has to offer. From savoring local cuisine to visiting art galleries, indulging in boutique shopping to shopping at artisan-style grocers, and sipping craft beers or appreciating fine wines, I am well-acquainted with all these experiences that the Lower Mainland has in abundance.
To me, conducting business is not simply a duty; it brings great pleasure. The privilege of assisting my clients in finding their perfect home is one that I hold in high regard. I am confident that my clients would vouch for my honesty and caring nature, and I eagerly look forward to providing you with the same level of care as we embark on the journey of uncovering your dream home... Your Perfect Home!
Andrew Szalontai
Real Estate Consultant
Keller Williams Realty VanCentral
(604) 262-1581 - Office